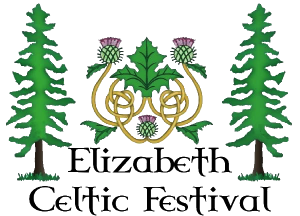 Animals Info
All Individuals bringing in dogs that are not part of an animal booth, show or event, including Clan members, Vendors, Festival Participants, Volunteers, etc. must fill out this form (as appropriate) and sign The Waiver.
Individuals don't pay for a booth…just fill out the form below and then Bunni Crawford at the Dogs of the British Empire Area–she will give you a ribbon for your dog to wear to show that it is "an allowed dog." Every dog will (please) wear a ribbon at the Festival.
The Elizabeth Celtic Festival Committee reserves the right to refuse any application. If your dog is at all aggressive (growls, barks, seeks to confront other dogs), you will be asked (told) to take your dog home. Dogs must be under control (that is, on a leash) at all times. If you need to walk your dog, please do it in a "non-public area," since the public (spectators) are not allowed to bring dogs to the festival. Make sure that your dog is in the shade and has plenty of water. Replenishment water is available at the park–ask.
Application