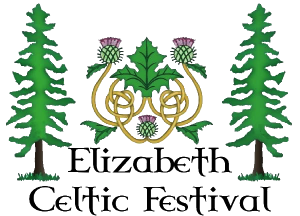 Community Organizations Info
All applications must be received by July 1st.   Accepted applicants will be notified within two weeks (or less) of receiving applications.   Applications not accepted will be returned. The Elizabeth Celtic Festival Committee reserves the right to refuse any application.  If you do not receive a confirmation stating we have received your application by July 1, please email community-orgs@elizabethcelticfest.org
Fee for non-profit community organization space: There is no fee for Non-Profit and Community Organizations for a 10×10 space. Organizations may choose to come only one day or both days. The application deadline is July 1st, 2022. Each Organization will receive wristbands, 1 parking pass, plus a location map when you check-in at the gate on Hwy 86.  
Self-Contained: Each Community Organization or similar organization must be self-contained – please bring your own tents, tables, and chairs.  Groups may sell memberships and group-specific merchandise. All organizations should have a canopy/tent and should also have a nice sign or banner naming your group.  All tents must be staked or weighted down in case of inclement weather.
Check-in & set-up: Recommended check-in and set-up are on Friday afternoon, starting at 4:00 p.m., ending at 8:00 p.m. In most cases, you will be able to drive your vehicle next to your tent site to off-load.  Everyone must check in first before off-loading and setting up.
Early Saturday morning set-up: Vehicle access for off-loading is from 7:00 a.m – 8:00 a.m. All vehicles must be off the grounds by 8:30 a.m.  Gates open at 9:00 a.m for the public.
The normal main entrance to Casey Jones Park (next to the Pavilion Building) is the access point for all exhibitors for Saturday morning. After unloading, vehicles should be moved to the Main Parking Lot outside the Main Participant entrance, or to any other parking area designated for artisans.  You must off-load and move as there will be many other cars coming in behind you.  
You must stay the whole day: If you come, you agree that you will stay until at least: 5:00 p.m. on Saturday and 4:00 p.m. on Sunday.  No exceptions, please. Saturday will be a long day with evening hours until 8:00 p.m., with performances and activities happening, and probably more people, therefore you are urged to stay open until at least 7:00 p.m.  Because of Saturday's long hours, there will be no vehicle access until 8:00 p.m. on Saturday.
All Questions about the Non-Profit Community Organizations:
Email community-orgs@elizabethcelticfest.org
Camping needs can be attended to by following this link or going to 'Camping Info' in the website menu.
If you need the Dogs of the British Isles application, please use this link.
Application:
Submit the form above by clicking on the blue 'submit' button within the form box BEFORE continuing to the Paypal button below (if applicable).
Thank you!
If you would like a booth larger than the free 10 x 10, please use the payment button below.