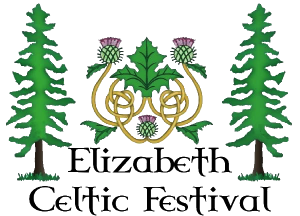 Join us for some authentic Scottish food, Irish whiskey ice cream, great beers & ales, fantastic local Celtic music, dance, piping, Scottish Heavy Athletics, local artisans, merchants, Living History Reenactments, and find your family clan! There are also lots of kid-friendly activities, plus children 10 and under are always free at the gate.
Affordable fun for everyone!
Pet Policy:
For the safety of our patrons and participating Dogs of the British Isles, please leave your beloved pets at home where they will be safe and comfortable.
Per insurance regulations, only certified service animals with rabies, distemper, and kennel cough vaccinations will be allowed in the park (proof of vaccinations must be presented prior to admittance).
NO PETS ALOUD. Leave your dogs home. Please understand that both for insurance, out of respect for volunteer displays and property, and for the safety of the animals we do host, we cannot have the public bringing dogs. All dogs on festival grounds are either ADA service animals, or belong to the volunteers and are pre-approved.
All approved animals must visit the Dogs of the British Isles area for registration and an attendance ribbon. Questions regarding animals can be directed to our Animal Coordinator at Animals@ElizabethCelticFest.org
**Certified Service Dogs are allowed.