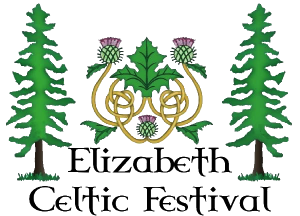 5/9/22:
Changes to camping, please read entirely:
In previous years, the land used for the lower camping was owned by the Jones Family and they graciously donated the use of that land to the Elizabeth Celtic Festival (ECF). This allowed the festival to offer on-site camping for the weekend fee of $20 and be laid back about the area. We at ECF would like to thank the Jones Family for their years of generosity and support. 
Since 2019, when we were last able to hold the festival, the land has been sold to Elizabeth Parks & Rec District. This change, combined with overall cost increases in all areas, has left the Festival to make the difficult decision to increase prices. We do not take this decision lightly but it is necessary in order to keep the festival alive in the long run. This increase in cost is presented in the weekend rate which will simplify the registration process, just as it did in years past. We thank each person for your understanding and patience as we move forward with the new fees, check-in processes, and area rules.
This is info regarding the primitive "Lower Camping", Previously all the info was on papers and mailed out. That information is now listed below and the application and payment method has been converted to online. Please read the information below, submit your application, and then your payment. A Paypal account is NOT REQUIRED as they will process without one. If you need any help with this website, please email webmaster@elizabethcelticfest.org. If you have any questions regarding this camping option at the festival, please email camping@elizabethcelticfest.org.
Rules & Procedures for Lower Campground are as follows:
Check-in first, before you drive to a site. Some sites are reserved for certain sizes of rigs. If you park somewhere that is assigned to someone else, you'll need to move at our request. Don't just drive in and go where you please. Each car with tent, RV, or trailer must have a Camping Pass showing that you are 'checked in' which allows you access through the parking lot.
You are camping at your own risk. Our insurance does not cover you or anyone using the Lower Campground from damage, injury or loss; nor does it cover any of that caused by others.
No campfires or any type of open flame. You can use a propane stove, but no charcoal grills or cookers.
Smoking Restrictions. You are welcome to smoke in your car or at our designated smoking area by the baseball diamond, as directed by the Elizabeth Fire Marshall. We appreciate everyone's cooperation.
Quiet time & general behavior. Quiet time is from 10 pm until 7 am There should be no generators running after 10 p.m. – your 'quiet' generator is 'loud' to someone else. If anyone decides to be difficult, loud, or aggressive, they may be asked to leave.
Parking of additional vehicles. Besides the vehicle that brought in the one tent or the one trailer, all other vehicles should be parked in the center triangle of the campground to leave all campsites accessible. There may be someone coming in Saturday to camp, so don't park where a tent or trailer could go.
Drive carefully, no speeding. We rent this property and want to take good care of it. During the Festival open hours, the upper gate will be blocked for access. If you have to get out you will need to go through the General Parking Lot.
Let's keep the entire area clean. As previously stated above, we rent this property. Pick up your trash!
Non-certified service dogs are strictly prohibited! However, we host "Dogs of the British Isles" with special permission. You may apply to our Dog/Animal Coordinator if you believe your animal may qualify, and their immunization records are current. Animal Coordinator can be contacted at Animals@ElizabethCelticFest.org. Dogs have to be on a leash at all times. All dogs at the Festival or Campground MUST be registered with the Festival for public safety and liability reasons. Your dog will be provided a ribbon it will be required to wear so no one questions whether or not the dog is registered. Barking or aggressive dogs may need to be taken home, again for liability reasons.
Submit the form above by clicking on the blue 'submit' button within the form box BEFORE continuing to the Paypal button below.
Thank you!