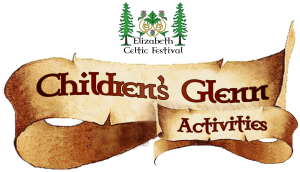 Children's Parade – Held daily – check the board or printed schedule for time. It starts in front of the Children's Glenn with bagpipers to liven things up. Grab a noisemaker from the basket and when you get back there are frozen treats to enjoy! 
Fairy Glenn – Look for the fairy tents set up just past the catapult castle. Lots of fairy dust and magic!
Face Painting – Circus-YOUR-Way! members are amazing artists. They are set up beside the Children's Glenn. Reasonable prices.
Circus Performances – Circus-YOUR-Way! acrobats will be performing around the Children's Glenn. You may see jugglers and stilt walkers, too. Enjoy!
Story Time – Elizabeth Public Library often has story time in the Children's Glenn. Check the board for times.
Cèilidh – Bennett School of Irish Dance hosts a Cèilidh each day (check for times). A Cèilidh or Céilí is an Irish or Scottish dance party. They will teach you the steps and turn on the music. Have fun!
[wonderplugin_carousel id="6″]
Children's Glenn is sponsored by The Naked Goat Café & General Store
in Elbert, CO ♦ 719-800-2380 ♦ https://nakedgoatfarm.com