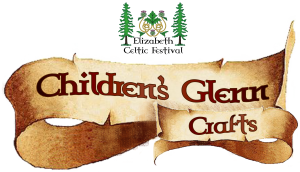 There are lots of fun crafts to make in the Children's Glenn. We have volunteers to show you how. Crafts are free, but donations are very much appreciated to help with the cost of supplies. Kids of all ages and adults will enjoy making something to take home!
Welsh Dragons – The dragons are made from pipe cleaners, felt, and pom poms. There are many different colors to choose from, but if you want to represent the Welsh Flag, then make a red one!
Catapults – Catapults are made from pieces of wood and popsicle sticks. They can be decorated with Celtic knot design stencils or Celtic flag stickers. When the glue dries, you will want to try your hand at shooting dry beans into the castle. Remember to join us for the Catapult Contest!
Battle Shields – Paint these cardboard shields and decorate with die cuts and stickers. Hang to dry and prepare for battle!
Royal Crowns – This is a fun and easy craft for the little ones. We have lots of glitter and jewels to decorate make your crown as fancy as you like.
Loch Ness Monster – Nessie is similar to the dragons to make. No wings, add a lake!
Scottie Dogs – Scottie Dogs are made with pipe cleaners and decorated with a bow. They are a little more challenging for the younger kids, but we have helpers to guide you.
Celtic Knot Necklaces – Don't worry if it takes you a few tries to get this knot tied correctly! Once you do, you can decorate it with beads. We have a few Celtic charms for purchase which can be attached if you'd like.
Bookmarks – Come up to the counter and look through the box of bookmarks to color. There are clear plastic sleeves to protect your artwork and tassels to complete the look.
Bubble Wand Shamrocks – This is a craft we have been trying to perfect. If you want to volunteer to do that, we will show you the supplies. So far we've been able to make a beautiful shamrock out of wire and beads, but the bubbles always pop too soon.
[wonderplugin_carousel id="4″]
Children's Glenn is sponsored by The Naked Goat Café & General Store
in Elbert, CO ♦ 719-800-2380 ♦ 
https://nakedgoatfarm.com