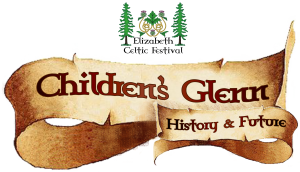 The Children's Glenn was created by Margie Ashura and her daughter, Tabitha in 2007 for Colorado Medieval Festival in Loveland, Colorado.  We volunteered with them from the beginning, helping with planning and front gate duties, but since there were no children's activities at the festival during those years, we came up with The Medieval World Children's Fantasy Glade (the original name).  In 2009 Neil Gillette, who was the president of Elizabeth Celtic Festival, asked us to set up the Children's Glade at Elizabeth. It was much closer to home (we live in Elbert), and we've been there ever since. The name changed from Children's Glade to Children's Glen in 2011.
Preparing the crafts and events, setting up and tearing down, and running the Children's Glen during the festival takes many days of hard work.  Every year we do this with wonderful volunteers from all over. We have had the help of most of our friends and family, the Elbert Woman's Club (2010, 2011, 2012), Elbert Presbyterian Church Youth Group (2009, 2010, 2011), Kiowa Creek Community Church Youth Group (2011), Heads Up Colorado (2011), Elbert Historic Rendezvous (2012), Magickal Quartz Elves (2013, 2014, 2015, 2016, 2017), Elizabeth Library (2014, 2018), and the Young Marines (2016), to name a few.  One of our biggest group of helpers and partners in the running of the Children's Glen comes from Circus-YOUR-Way! (2012-Present) and their owner, Jo Petit. Jo and her family have actually helped every year from the beginning, including at Colorado Medieval Festival. Brett Zezulka (a member of Circus-YOUR-Way! has helped for many years and has been a partner of mine in the Children's Glen for several years.
The Naked Goat Café & General Store, in Elbert, sponsors us by allowing us free parking for the Children's Glen storage trailer throughout the year.
2019 will be our 12th year since creating Children's Glen and it will be Margie's last year before retiring.  She wants to fly with her husband in their Yak18T to the yearly Oshkosh Airshow which almost always falls at the same time as Elizabeth Celtic Festival.  Tabitha is now married, living and working in NYC. It's time for a new chapter. Luckily Katte J. (currently VP of Atmosphere & Shows and long-time member of the RenScots) will take over the Children's Glenn in 2020.  This year (2019) – Katte, Brett, and Margie will work together to make a smooth transition. Tabitha hopes to come from NY to help us. Katte has many great ideas for the future!
Children's Glenn is sponsored by The Naked Goat Café & General Store
in Elbert, CO ♦ 719-800-2380 ♦ https://nakedgoatfarm.com